Home > Ecological Sanitation
Ecological Sanitation
Ecological Sanitation – An Introduction

Ecological sanitation is a sanitation process that lends a new dimension to the conventional concept of dealing with waste and wastewater. Commonly known as ecosan or eco-san, the method underlines how to utilize human blackwater and get rid of fecal pathogens from any still present wastewater or urine at the source itself. This way nutrients from human faeces, urine and greywater is retrieved, which are then employed in agricultural activities like gardening, farming, fish-farming or other water-intensive farming and irrigation systems.

Primary Objectives of Ecosan Systems

The key objective based on which ecosan systems operate is the protection & promotion of human health and the environment. This is done by implementing alternate sanitation methods that limit the use of water in sanitation systems for hand (and anal) washing only. Also, through the ecosan method, nutrients and organic matter contained in human excreta are recognized not as waster matter but as valuable resources. Therefore, these are properly treated and then recycled for use in various food production systems including agricultural and irrigation activities. To cite an example, pathogens and odour can be isolated/removed from human faeces through the process of desiccation. The dried-out faeces can then be used as a conditioner for agriculture. This helps in returning a significant portion of the nutrients and trace elements to the soil without causing any form of environmental degradation.

Why Ecological Sanitation?

As opposed to traditional disposal oriented sanitation solutions like sewer-based (flush-and-forget) or pit-based (drop-and-store) sanitation systems, ecosan systems identify human excreta and household wastewater as potential resources,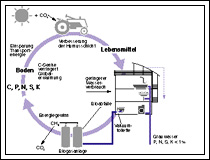 which if appropriately recovered and treated can be safely reused for improving agricultural activities in an economically and ecologically advantageous manner. This sustainable re-use and recycling of nutrients from human excreta such as faeces and urine through ecosan systems mainly has the following basic advantages to offer:
It enhances agricultural output
It prevents the degradation of soil fertility
It reduces water pollution by curbing surface and ground water pollution
It helps in recovering bioenergy.