Home > Water Treatment in Developing Regions
Water Treatment in Developing Regions

Essential to health and vital for food production, economic growth & environmental protection, water is a precious natural resource – a resource that is continually depleting with its increasing demand. Key reasons that account for the growing demand of water, mostly in developing parts of the world are:
population explosion, urbanization, economic growth and changing trade policies. In the developing regions, water is usually consumed on a large scale in households, agriculture, industries and even during recreation.

However, though adequate water of acceptable standard is a prerequisite in developing regions, yet only 18% of the low-income population in such regions have the facility of a household connected water supply. Rest of the residents end up paying highly overpriced water rates to local vendors for meeting their basic water needs. Ongoing water scarcity also stems from the fact that there is a serious dearth of proper waste water treatment in these areas .

Almost 90% of sewage water from households, tourist facilities and other small communities in developing regions remains untreated and is directly thrown into adjacent lakes, rivers, shallow embayments and coastal waters. The remaining portion of wastewater is usually treated using conventional primary settling and activated sludge in low budget plants with negligible treatment capacity. Thus, implementing appropriate measures for regulating public and private wastewater collection, treatment and disposal in developing countries is the clarion call of the day.

Water Treatment Methods in Developing Regions

Now, adoption of a specific water treatment technology in developing regions depends on factors like composition of the water/wastewater, availability of land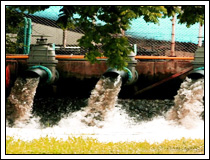 resource, availability of local funds, and invariably the availability of technical expertise and manpower. Necessary steps to improve and upgrade existing treatment facilities and setting up of new and technically advanced plants can significantly curb water and wastewater problems in developing countries, which can be done by using any of the following effective and low management water and waste water treatment facilities:
Membrane Bio Reactors
API Water Oil Separators
Industrial RO Plants
Sewage & Effluent Treatment Plants
Plants for treating alkalies and toxic materials
Bio & Organic Pollutant Treating Plants.