Home > Machines Used > API Oil-water Separator
API Oil-water Separator

An API oil-water separator is a device designed to separate large volumes of oil and suspended solids from the wastewater effluents of oil refineries, petrochemical plants, chemical plants, natural gas processing plants and other industrial sources.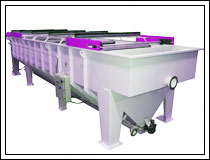 Design and Operation of an API Oil-water Separator

The API oil-water separator, generally known as gravity separation device, is ergonomically designed by applying Stokes Law, according to which the raise in velocity depends upon the density and the size of the oil droplets. The design is based on the exact gravity difference between oil and the wastewater, as the difference is lesser than the gravity difference between suspended solids and water. This design enables the suspended solids to settle at the bottom, as sediment, in the separator. The oil rises upwards while the waste water remains at the middle of separator.

Usually, the oil layer is re-processed further, while the bottom sediment layer is removed using a chain along with flight scrapper and sludge pump. The waste water is sent for treatment, as it consists of dissolved air flotation (DAF) unit and for further removal of residual oil. After that it is treated biologically for removing certain undesirable dissolved chemical compounds.

A Typical Parallel Plate Separator

Parallel plate separators are quite similar with API oil-water separators with a single difference that API separators include tilted parallel plate assemblies that are known as parallel packs. The bottom of every parallel plate offers sufficient surface for already suspended oil droplets to unite into larger globules. Sediments slides through the topside of every parallel plate that depends upon the specific gravity of both water and oil just similar to API oil-water separator. Although, these parallel plates augment the amount of oil-water separation but the result is that parallel plate separator needs considerably less space as compared to the conventional API oil-water separators to achieve the same degree of separation.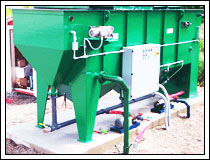 Other Application of API Oil-water Separators

The two major firlds of application of API Oil-water separators are:
Oil water separators (OWS) are required for separating oil from the bilge water that gets collected in ships as laid by the international MARPOL Convention.
These separators are extensively used in electrical substations. For cooling purpose, large amount of oil is used by transformers. Generally, moats are constructed in and around unenclosed substations to collect leaked oil, but these also gather rainwater. Therefore, oil-water separators provide a convenient and prompt cleanup incase of any type of oil leakage.