High Efficiency Thickener

High efficiency thickeners are technically advanced automatic lift thickeners used in the process of sludge thickening employed to treat wastewater. These centrally driven plants are extremely efficient in treating various industrial ground pastes, such as metallurgy, coal, metal mineral water, chemical ground paste, etc.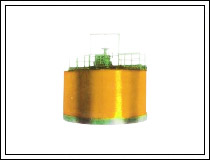 The Process of Sludge Thickening

Sludge thickening is a low investment process used commonly in wastewater treatment plants for removing as much water as possible from the liquid sludge. The method involves increasing the concentration of the solids in the sludge so that they can be easily dewatered. Generally, a thickening device is used or alternately, a polymer is added to help thicken the sludge in the water so that it reduces the total volume of the free water and thereby minimizes the unit load on downstream processes. As a result, both the primary and secondary sludges can be removed with the help of large belt presses during the stages of digestion and dewatering.

The most commonly used thickening processes include:
Coagulant Addition
Gravity Thickening.
Technical Characteristics of High Efficiency Thickeners
First and foremost, these high-tech plants possess large handling capacity and their thickening efficiency is extremely high. They work on a laminar current settlement technology to feature reduced settlement height and solid granule kinetic energy. Fabricated with pharmacy device, set static mixer and three pharmacy spots in the feeding pipe, they can mix the drugs and materials completely and get a good flocculation & settlement effect.
High efficiency thickener plants are powered by hydraulic double drives that support the center pivoting outer gear ring for high mechanical strength and have overload protection functioning. They also feature an inbuilt pressure control device that auto-stops the entire plant when overloaded and hence eliminates the risk of equipment damage.
Hydraulic automatic lift device and hydraulic automatic drive device use the same combination hydraulic pumping station to feedback mud resistance by oil pressure.
Set defoaming device to reduce overflow water consistency.