Pasteurization

Pasteurization refers to the process of heating liquid edible or drinking water to a specific temperature for a definite length of time and then cooling it immediately to disinfect it from microbes. Unlike sterilization, this process aims to reduce the number of viable pathogens or slower the growth of microbes present in the water.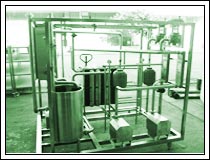 Pasteurization was first established by Robert Koch and Louis Pasteur in the late 1880's after their groundbreaking research on germ theory of infectious disease. According to them, water can be pasteurized at temperatures well below its boiling point i.e 65º C (149º F) for 5 minutes.

Even in popular processes like Portable Water Treatment (also called Point Of Use water treatment system), pasteurization is considered to be a primary and one of the the most vital processes employed to eliminate bacteria and other disease causing micro-organisms.

One of the most basic ways of water pasteurization is by using a solar cooker. There are many types of solar cooker available, commercially the most basic being the solar box cooker. The solar box cooker is actually an insulated box made of wood, cardboard, plastic, or woven straw or even aluminized cardboard. It consists of a solar collection area and a reflective lid that increases the sunlight that is reflected towards the solar collection area. A regular solar box cooker can easily yield 4 to 12 liters of pasteurized water per day.

Another type of device normally used to pasteurize water is the solar flow through device. In this process, water flows through a solar collector, one end of which is connected to a thermostatic valve and the other to a storage tank for the untreated water supply. The storage tank is fabricated with a sand/gravel/charcoal filter that carries out the preliminary filtering. As the treated water drains from the solar box cooker, contaminated water from the storage tank automatically refills the tubing. Once this cool water reaches the valve, the valve shuts and the pasteurization process begins anew.

Regardless of the type of solar cooker used, a way of knowing if the water reached the pasteurization temperature is by using a simple type of thermometer called the Water Pasteurization Indicator.