Small Scale Clay Pot & Porous Capsule Irrigation

Clay pot & porous capsule irrigation is not a novel irrigation technology. It was employed by the Romans as a major irrigation technique for many centuries. These days, this ancient irrigation system has been innovated and reapplied as a low-volume and cost-effective irrigation technology in many parts of the world, especially in regions that lack good quality water supply from natural resources. This irrigation practice is mostly applied for small scale agricultural projects, such as restoration, gardens, landscaping, and farming in the dry and semi-arid regions of Brazil, Argentina, Ecuador, Bolivia, and Mexico.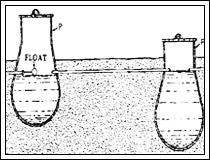 Small Scale Clay Pot & Porous Capsule Irrigation- The Technology

The system is based on storing and distributing water to the soil, by the method of using simple clay pots or porous capsules interlinked by plastic piping. Maintaining steady hydrostatic pressure is important and it is regulated by using a constant-level reservoir. Clay pots used in the method are designed with clay or clay mixed with sand and then baked in home furnaces. These pots are conical in shape with an open top. For irrigation, these pots are partially buried in the soil in such a manner that only the rims are extended above the ground. The pot rims are coated in white to reduce evaporation, and uniform porosity and permeability is ensured by distribution through plastic (PVC) piping that interconnects the capsules.

Advantages of Clay Pot & Porous Capsule Irrigation Technology
Economical technology
Easy operation and maintenance
Environmentally friendly
Soil erosion is reduced
Comparatively higher agricultural yield
Can be implemented at lower air temperatures
Low infiltration losses
Reduced fertilizer usage
Effective even in arid regions and salty soils
Highly suitable for small agriculture communities and family gardens
Weed growth is greatly reduced.
Disadvantages of Clay Pot & Porous Capsule Irrigation Technology
Limited application – suitable only for small-scale agricultural activities
Technology becomes ineffective in rocky soils
Broken pots or capsules may hamper the irrigation operation
The rate of water release may vary from pot to pot
Plants featuring extended root systems are difficult to cultivate implementing this technology.