Tickling Filter Process

Tickling filter is an old and prominent process of sewage waste water treatment used to treat biodegradable organic material of plant or animal origin. These simple filters are quite a reliable alternative to septic systems with better treatment efficiency and efficacious nitrogen removal. The typical effluent quality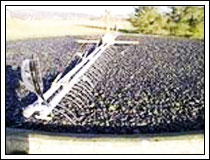 parameters of tickling filter process are Biochemical Oxygen Demand (BOD), Total Suspended Solids (TSS), Total Kjeldahl Nitrogen (TKN), and fecal coliforms.

There are three basic types of trickle filters, which are used extensively for:
Treating small scale residential waste or rural sewage
Huge centralized setups for treating municipal sewage
Systems applied to the treatment of industrial wastewater.
Operation
A typical tickling filter consists of the following fundamental components:

A bed of rocks, gravel, slag, peat moss, or plastic media
A bed of filter medium upon which a layer of microbial slime is promoted and developed
An enclosure or a container which houses the bed of filter medium
A system for distributing the flow of wastewater over the filter medium
A system for removing and disposing of any sludge from the treated effluent.
As the water flows downward over the bed of rocks it comes in contact with a thin film of microbial slime covering the bed media. This bio film provides a high surface area and facilitates absorption and adsorption of the organic compounds which removes the contaminants from the waste water steam. Aerobic conditions are maintained by forced air flowing through the bed or by natural convection of air.

The diffusion of air into the slime layer provides the required oxygen for all bio chemical oxidation of the organic compounds. The end products include carbon dioxide gas, water and other products of the oxidation.