Water Treatment in Developing Regions



Essential to health and vital for food production, economic growth & environmental protection, water is a precious natural resource - a resource that

is continually depleting with its increasing demand. Key reasons that account for the growing demand of water.

more...
Different Processes Involved

Whether drawn from a well or from huge water bodies, drinking water may contain pollutants and unwanted particles like runoff from agriculture, pesticidesused in farming, as well as harmful microbial organisms bacteria and cysts. With the ever increasing rise in pollution levels in today's world there is an urgent need for water treatment techniques through which the contaminated water can be purified and treated of its pollutants & waste and used or safely returned to the environment. There are numerous methods adopted for treating water, a few of which are discussed below:

Filtration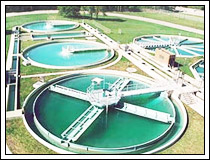 Undesirable chemicals, materials, and biological contaminants from contaminated drinking water can be eliminated by the process of filtration. As a water purification process, filtration clarifies water and enhances the effectiveness of disinfection. The most common type of filter used in such cases is a rapid sand filter.

Chlorination

Chlorination, as the name suggests is one of the most common and basic methods of treating contaminated water using chlorine. Chlorine, a very common water disinfectant effectively eliminates all traces of pathogenic bacteria and is known to oxidize lipid contaminants in the water, thus creating free radicals. Chlorinated water is very effective in preventing the spread of waterborne diseases.

Boiling

Among the different methods used to purify and treat water , the method of boiling water is perhaps the most effective way of killing germs. Even most modern filtering systems and technologically advanced methods of water treatment come in a poor distant second to this traditional and almost foolproof method of boiling. Boiling water requires no special equipment or training, and is the most effective method of destroying microorganisms including disease causing bacteria, viruses, protozoans and parasites.

Aeration

Aeration involves passing or mixing air in the raw water to remove the excess iron and manganese. This is generally achieved by using a Venturi tube, aeration turbines or compressed air which can be combined with diffuser(s) air stone(s), as well as fine bubble diffusers, coarse bubble diffusers or linear aeration tubing. Generally, porous ceramics are more preferred as they can disperse finer bubbles which means more gas is exposed to the liquid increasing the gas transfer efficiency.

Desalination

This is a frequently used water treatment process which expeditiously removes undesirable salts and minerals from raw water to make it fit for drinking and industrial purposes. This desalination technique involves passing of water through two ion exchange materials in order to eliminate all sodium, calcium, iron, copper and dissolved anions such as chloride and bromide. Unlike home equipment, desalination plants efficiently eliminates all positive metallic ions in the process and supersede them with hydrogen ions instead. Moreover, the entire process is extremely simple, user friendly and requires no costly equipment.

Sedimentation

Sedimentation is a very simple process and is largely employed in purifying contaminated water, making the treated water fit for human consumption. In this method, velocity of the water is decreased to a point below which the particles no longer remain in suspension, but settle at the bottom leaving the liquid free from dirt and other unwanted particles. Thus, the velocity no longer supports the transport of the floc or suspended particles, and gravity removes them from the flow, improving the quality of the treated water in the process.

Very fine solids and solids with densities close to the density of water pose special problems. In such cases chemicals like alum, lime, ferric chloride, ferric sulfate, chlorinated copper, etc., are used to bring the finer suspended and colloidal solids into masses of large bulk, thus hastening the settlement process.


Pre Treatment
Be it from wells or huge water bodies, water has to be pumped from its source into pipes and holding reservoirs.


Portable Water Treatment
Portable Water Treatment refers to compact water purifying units that can be easily transported from one place to another as per convenience.


Reverse Osmosis
Reverse osmosis or RO is a filtration or separation method, wherein many types of large molecules and ions are separated or removed from a solution by exerting pressure on the solution.

POU Treatment
POU Treatment or Point-of-Use water treatment does not refer to a single water treatment method, but a large variety of water treatment


Activated Sludge
Activated sludge is a suspended growth process, commonly employed to handle human waste and industrial waste in wastewater treatment plants.


Filtration
As a water purification process, filtration clarifies water and enhances the effectiveness of disinfection. This process can very efficiently eliminate all undesirable chemicals


Disinfection
One of the most viable of primary techniques designed for destructing and inactivating pathogenic organisms or microbes in a sample like domestic wastewater is disinfection


Flocculation
Flocculation or floculation is a significant process widely utilized in water treatment operations, including purification of drinking water, sewage water treatment.


Additional Measures
With the ever increasing rise in pollution levels in today's world there is an urgent need for water treatment techniques through which the contaminated water can be purified and treated of its pollutants