Underground Dams in Brazil

Northeastern regions of Brazil experience climatic instability due to irregular rainfall. Occasional rain in these areas coupled with shortage of a reliable water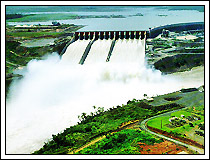 supply network leads to various problems for farming settlement in these regions. Besides, these semi-arid tropical areas of Brazil feature shallow & rocky soils with low water retention rate, negligible organic material content, and a high susceptibility to erosion. Thus, more often than not, challenges in creating and tapping water reserves is an ongoing struggle faced by Brazilian farmers.

Now numerous techniques have been devised to overcome such shortcomings related to water storage, one of the most common being the construction of surface reservoirs. However, evaporative losses are extremely high in this case. Another feasible option is to utilize groundwater. But underlying crystalline bedrock do not have the necessary porous structure that is usually required for storing large volumes of water and maintaining a high extraction rate. This has led to the initiation of an alternative technique for water storage– construction of underground dams, which is an ingenious Brazilian method for storing large quantities of quality water during wet season for dispersal during periods of drought.

These underground dams are somewhat similar to above ground dams. The only notable difference is that reservoirs of underground dams are filled with sand to reduce evaporative losses. Large quantities of water is stored in the porosity of the sand, and is channelized for various end-use during the dry season, including domestic use, community use, use by animals, or even water use for small-scale irrigation activities.

Advantages of Underground Dams

As opposed to the natural aquifers, underground dams have many significant advantages. In Brazil, these dams are largely installed in rural and semi-arid regions as an inexpensive option to traditional sources of water supply. Some of the major advantages of these dams are:
The technology used behind these dams is very simple. In fact, aside community wells, these dams are the simplest and the most effective system for serving water needs of the poorer communities of Brazil.
These dams are highly economical as they are built using locally available resources and technology.
These dams are also easy to install, requiring no external expertise for operation and maintenance.
In comparison to surface water reservoirs, these dams have very low evaporation rates.
Being based on simple technology, they can easily be implemented along with other technologies like soil and water conservation techniques, and dug wells upstream.
Disadvantages of Underground Dams

As they retain water within the alluvial soil profile, these dams often have low water storage capacities than the traditional dams.
At times, installed dams leak or fail to provide good quality water, which proves that many vital issues are to be addressed before construction of these dams are carried out within a given alluvial valley on a large scale.